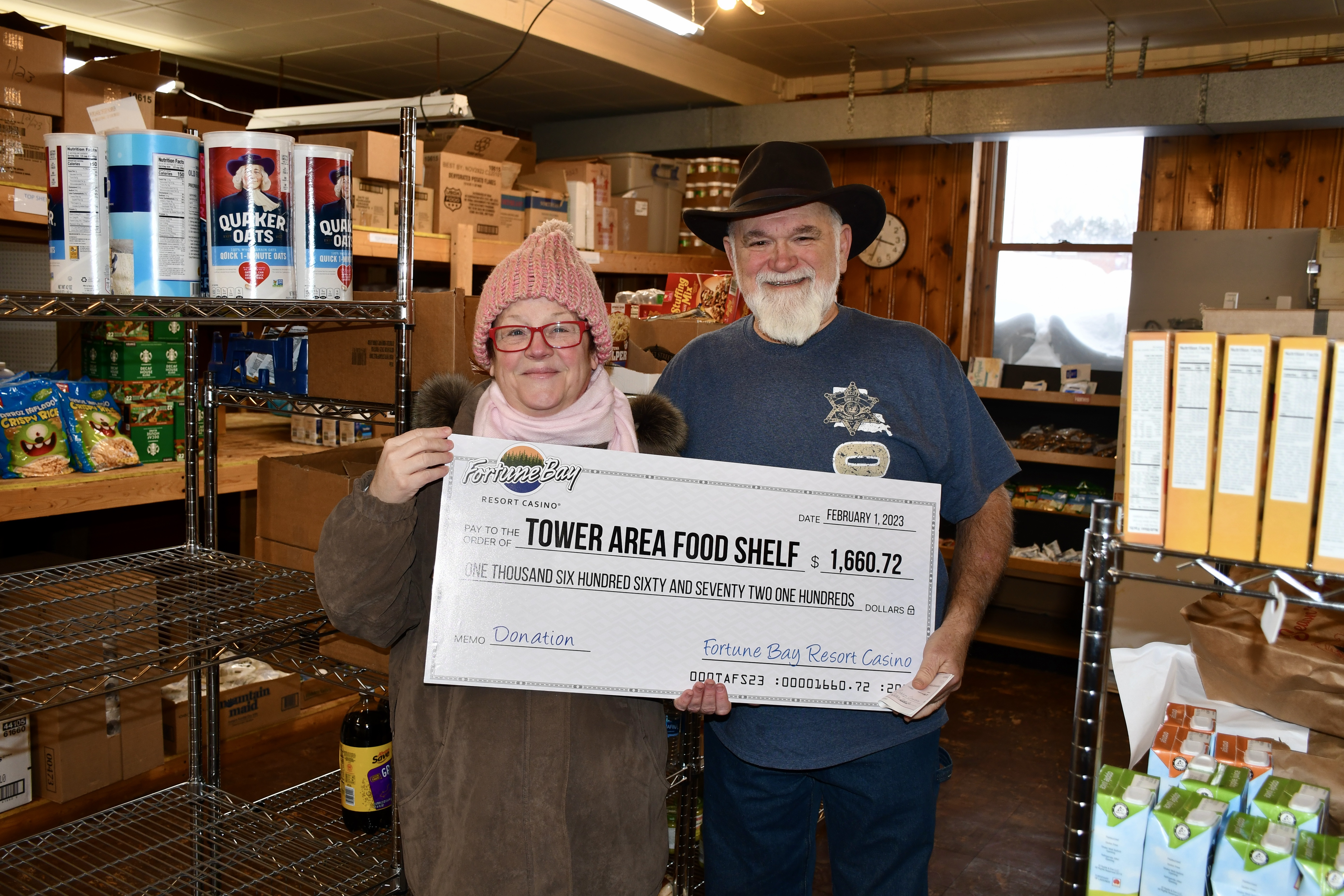 Giving Back to Our Communities!
March 3, 2023
February was a busy month for Fortune Bay Resort Casino as it played host to the 2023 Fun Run and the 2023 Black Woods Blizzard Tour.
Aside from check donations of $2,500 and $4,000, respectively, in-kind contributions added another $15,000 for these two events.
Couple that with some check presentations to the Northeast Range High School Band Trip, Tower Area Food Shelf, and a separate check to Never Surrender, Inc., and Fortune Bay is proud to say it's doing its part to help give back to the communities it serves.
"We realize the value in supporting the Fun Run, Black Woods Blizzard Tour, plus the other worthwhile causes we've helped out," said Fortune Bay's Brian K. Anderson. "The Fun Run raises money for area snowmobile clubs to help keep our trails in pristine conditions, which continues to help businesses throughout the region with winter tourism dollars coming to our communities."
The Blackwoods Blizzard Tour, which is in its 24th year, raises money for those who are battling ALS or Lou Gehrig's disease.
"The area lost a true champion last year when Senator David Tomassoni passed away from this terrible disease," said Anderson, a former journalist who had ties to the late senator when he served as Editor/General Manager of Tomassoni's hometown newspaper, The Chisholm Tribune Press.
Anderson noted that Tomassoni's family and the Never Surrender, Inc. staff are working on a golf tournament at The Wilderness at Fortune Bay this coming August and a bike tour in September.
"They are working hard to preserve the legacy Senator Tomassoni left behind," said Anderson. "He was a great man who was always fighting for the betterment of the Iron Range and its people."
Meanwhile, Fortune Bay's recent donation to the Tower Area Food Shelf was well received by the directors who operate the entity, which is located in the basement of The Timberjay newspaper.
Although the food shelf is only open on the third Tuesday of every month, Directors Hugh and Frannie Woods are more than willing to make a special trip in to help anyone who needs assistance.
"Our phone number is right on the door, and we only live a couple of blocks away, so please call us," said Frannie Woods. "We do not want any to go hungry or wonder how they are going to make their next meal."
The Woods said the food shelf will take most any food donation, but the biggest need is cash because it gives them more buying power.
"Their $20 will buy some groceries at the store, but if you donate $20 to us, we can do so much more with it at our supplier," explained Frannie Woods of Second Harvest Northern Lakes Food Bank in Duluth. "We can probably get three to five meals with our $20 and maybe one meal if we buy groceries outright from an area grocery store."
Hugh Woods reiterated the thoughts of his wife, both of whom moved to the area six years ago from Louisiana.
"We have no regrets moving north because we love it here," said Hugh, who added that he previously helped at the Aurora food shelf. "I never dreamed I would be doing this, but we love it—it's our passion."
Frannie Woods thanked Fortune Bay and its guests for designating the Tower Area Food Shelf as one of its Ticket In Ticket Out Promotion recipients.
"This helps so much," said Woods of the $1,660.72 donation. "It's nice to get the support from Fortune Bay Resort Casino and other businesses that believe in our cause to help those who need it most."
RECENT POSTS
Hacker is cautiously optimistic for the 2022 fishing opener!
Even though Lake Vermilion is still holding onto its ice like a Yeti cooler, Marina Manager Brian Hacker remains hopeful that
Read More