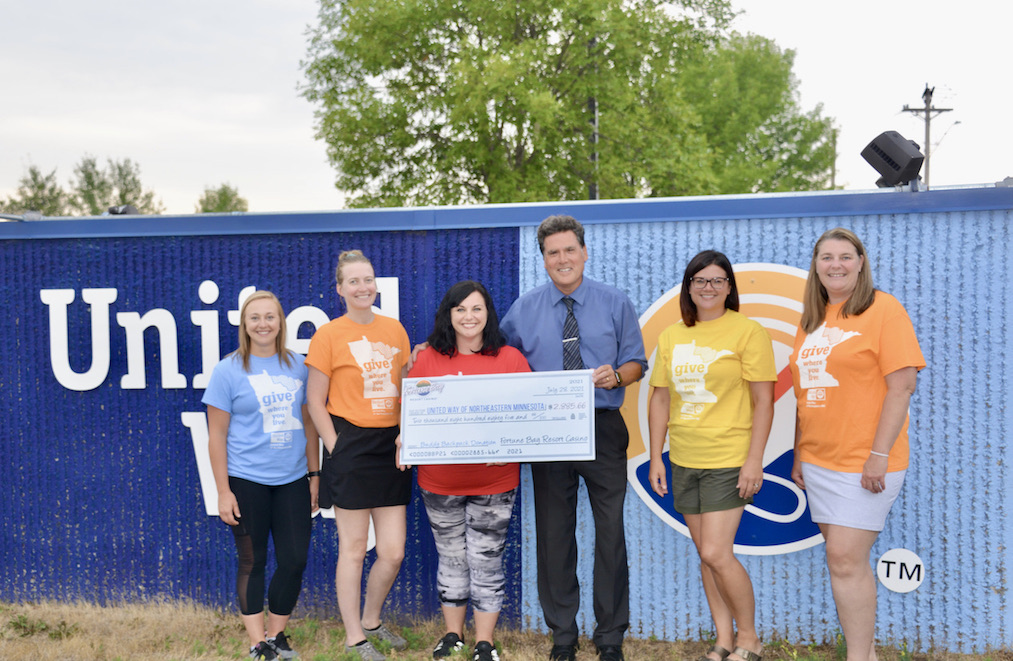 Buddy Backpacks Thanks Fortune Bay!
July 30, 2021
Fortune Bay and its guests have given the United Way of Northeastern Minnesota's (UWNEMN) Buddy Backpack program 2,885 reasons to be thankful for the recently completed Ticket in Ticket Promotion.
"The funds donated will provide 482-weekend meal kits for food-insecure children across the Iron Range through UWNEMN Buddy Backpacks program," said United Way of NE Minnesota's Elizabeth Kelly of a recent $2,885.66 check the agency received. "More than 1,100 children across our service territory will be enrolled in the program during the 2021-22 school year and will receive these meal kits each weekend or holiday break from school."
Like many other agencies, the COVID-19 pandemic hit the United Way of Northeastern Minnesota very hard. However, UWNEMN created a COVID-19 Relief Fund to help agencies struggling to provide services as well as individuals and families in our communities who lost their jobs or had reduced wages/hours due to the pandemic.
Kelly said this new funding allowed the agency to help hundreds of local people weather the storm of the pandemic. She said the agency also pivoted with their event fundraising and got creative as in-person events were all canceled due to the pandemic.
"We held online auctions and virtual events to raise needed funds for our direct-service programming," explained Kelly. "While we have missed our friends and UWNEMN Game Changers, we are also so grateful for the ways so many people and organizations—like Fortune Bay and its guests— stepped up to the plate to help us ensure that Buddy Backpacks would be fully funded last year and that food got to the children who needed it. The support has been tremendous!"
So, how can you help United Way help those in need? You can volunteer or provide a financial contribution to assist their efforts in funding one of several dozen organizations they lend a helping hand to. Kelly said the monetary donations allow United Way to purchase food for the Buddy Backpacks meal kits; send out Imagination Library books to local children; provide dental care to uninsured and underinsured individuals through Smiles United; assist local veterans through the United for Veterans crisis fund, and much more!
Meanwhile, Kelly said that volunteers are always needed and that will be the case again come September when kids anxiously await the arrival of another school year.
"They can help pack Buddy Backpacks meal kits," said Kelly. "Volunteers make this program possible!"
Fortune Bay's Director of Public Relations Brian K. Anderson attested to that fact.
"I have witnessed first-hand what a difference the United Way of Northeastern Minnesota makes for our communities," said Anderson, an Ely native who lives in Hibbing. "I used to sit on their panels to disperse funds to worthwhile agencies that needed funding to help keep their specific program alive. The stories about how United Way positively impacted the lives of so many were very profound and left us all with a newfound appreciation for the work they do."
More information on donating and volunteering with UWNEMN can be found at www.unitedwaynemn.org.
RECENT POSTS
Vaccine Mandate Takes Effect November 1st
The countdown is on for Fortune Bay Resort Casino, Bois Forte Tribal Government, and Bois Forte Business Development employees
Read More