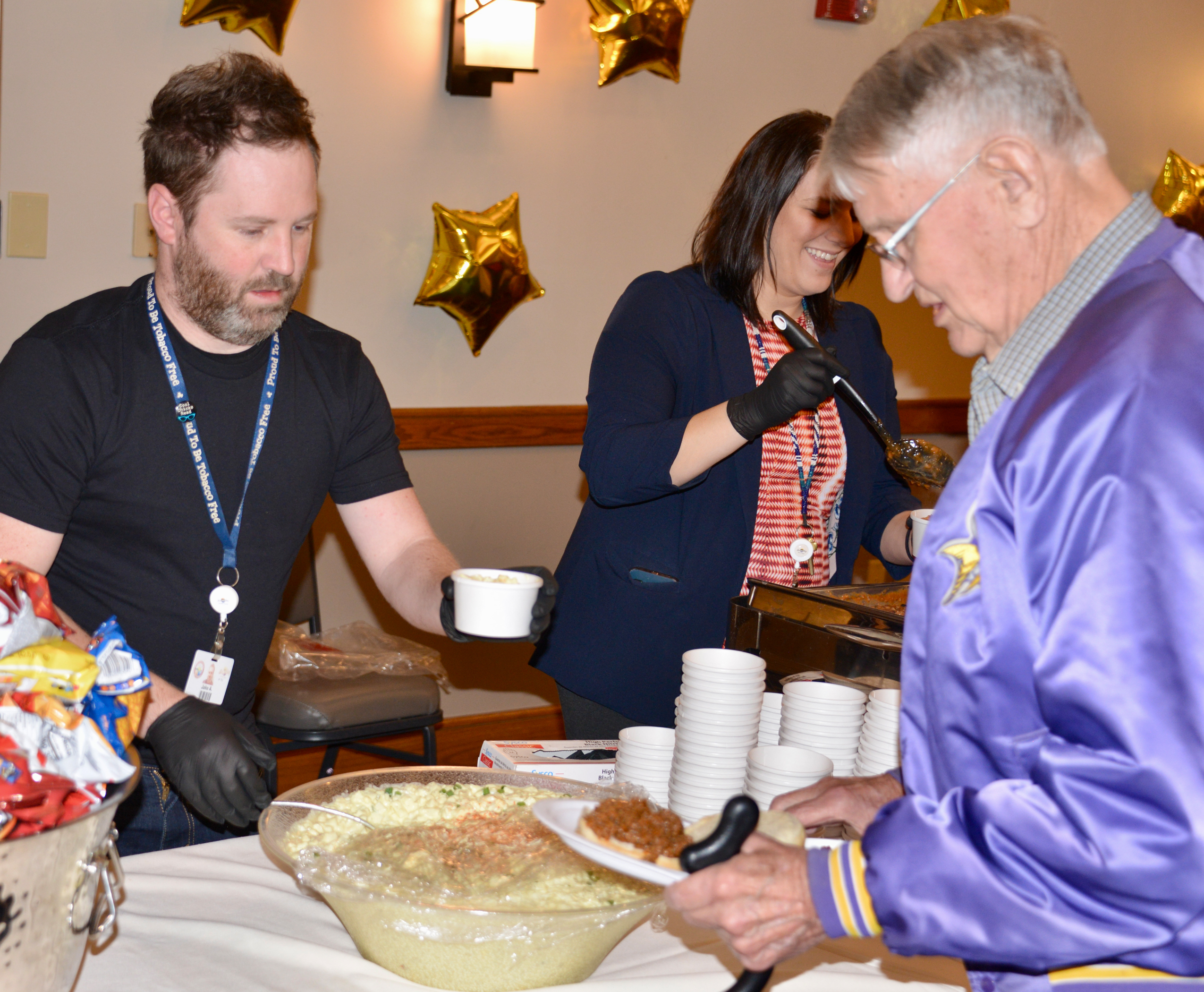 Fortune Bay celebrates 35 fantastic years!
October 28, 2021
Fortune Bay celebrates 35 fantastic years!
Guests from far and near recently showed up at a steady pace in The Woodlands Ballroom as the Fortune Bay team thanked everyone for their loyalty over the past 35 years.
"It's always nice to be able to do something special for all those who have played an important part of Fortune Bay's history," said Director of Marketing Jake Aune as he took a quick break from serving a delicious lunch.
The Guest Appreciation Lunch was just one of several great events taking place during anniversary month. Continuity gifts were given away including vintage Fortune Bay logo mugs and vintage Fortune Bay logo Under Armour jackets.
There was also an anniversary Deep Stack Poker Tournament, $10,000 35th anniversary Blackjack Tournament, free 35th anniversary Super Swipe where Wild Edge members would earn up to $500 Fortune Play. The biggest promotion was the Dragon's Gold Cash Drawings where players vied all month long for their share of $128,000 in cash!
Fortune Bay began as a high-stakes bingo hall in 1986. It was an exciting time for the Bois Forte Band of Chippewa as the creation of the Fortune Bay meant it was on the right path to financial stability.
But it was more than that. The creation of Fortune Bay proved to be an excellent opportunity to create jobs for Bois Forte band members and non-natives alike who were looking for a job so that they could stay in the area. Currently, the property has 345 employees, but that number grows during the peak summer season.
The progress was a laborious one, but by the time the National Indian Gaming Regulatory Act passed in 1989, there was no stopping the financial influence Fortune Bay would bring to the region.
Slot machines and blackjack were added in 1991 and that provided the increased revenues to help support the tribe's plans for improvements to its infrastructure, programs, and services.
By 1996, a 114-room resort was introduced to keep up with the demands to develop Fortune Bay into a destination property. It also marked the arrival of a restaurant; 10,000 square feet of conference/banquet space and several other amenities. Those included a marina, RV Park, and what is now known as the Bois Forte Heritage Center & Cultural Museum. The additional amenities not only created a boon for area construction companies and vendors, but also meant even more job creation for the area.
Looking to further position itself as a destination property, the Bois Forte Band gave the green light to go forth with the development of The Wilderness at Fortune Bay golf course in 2002. The $12.8 million project was completed in May of 2004 and has since proved to be a great investment and perfect complement to Fortune Bay Resort Casino.
While the golf course was a great addition, Fortune Bay could not sit idle as there continued to be a growing demand for gaming and tourism in the region. So, it was back to the drawing board and by 2007, 58 new premium rooms were added to the property.
Renovations were also done to the resort lobby and an executive dining room was also added. The Sunset Steakhouse came on board in 2014 and has been a big success since its inception. A poker room was introduced a few years ago. Fortune Bay also invested in 20 year-round RV sites and brought onboard a dozen ice fishing houses to help promote winter tourism.
"We've gone through many changes over the years and I'm sure there will be many more heading into the future as we do what we can to market ourselves as a destination property," said Assistant Director of Marketing Hannah Chosa, who was also working the Guest Appreciation Lunch. "I'm very proud of our Fortune Bay team and say thank you to our loyal guests who continue to support us as we celebrate another milestone anniversary."
RECENT POSTS
Vaccine Mandate Takes Effect November 1st
The countdown is on for Fortune Bay Resort Casino, Bois Forte Tribal Government, and Bois Forte Business Development employees
Read More