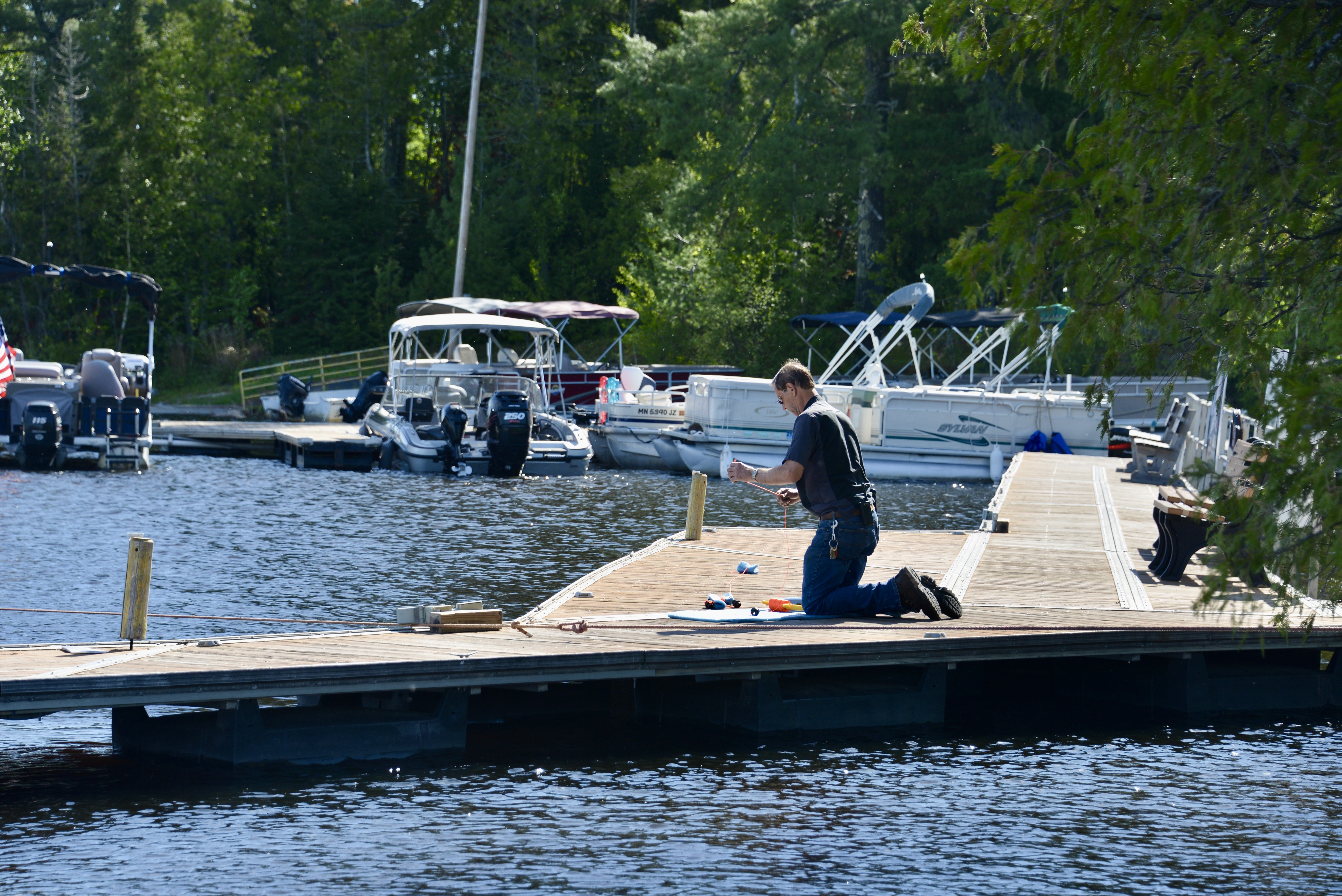 Fortune Bay's Marina is open again!
June 3, 2022
Thanks to some great teamwork by Fortune Bay's outside maintenance team, marina staff, and Anderson Barge Service, the marina will be back in business for the weekend.
Divers from Anderson Barge Service were able to get the dock system back in place after high winds and higher than normal water levels knocked them out of service earlier this week.
"The guys from Anderson Barge Service did an amazing job putting our docks back together and they were super quick to respond to our call," said Marina Manager Brian Hacker.
He added that Fortune Bay's Director of Facilities Charlie Riihiluoma and maintenance team members, Arnold Lundstrom and Joe Rutchasky, were also crucial to getting this done.
"Everyone came together and knocked it out of the park," said Hacker.
The damage sustained Tuesday evening also entailed the electrical being knocked out to the 80-slip dock system.
Hacker said he is hopeful the electric power sources on the dock that allows guests to charge their watercraft batteries, etc. will be worked on soon.
"Electric on the docks won't work until we get the electrician to repair the damage," said Hacker, who has calls out to area electricians to make that happen.
One big problem that was avoided had to do with the gas pump, which made it through without any problems.
"We just tested it this morning," said Hacker of the pump, which is located at the end of the main dock. "The pump works and there were no signs of fuel in the water."
Maintenance crews will still be busy today installing the ramp to the dock on the west end where the fire pit is located.
"There will be quite a bit of work needed still to get the docks back to 100%," said Hacker.
Nonetheless, the marina building, which sells live bait, fishing equipment, snacks, beverages, pizzas, plus many other goods, will be open again today for business.
"It has been a few trying days getting things back to normal," said Hacker. "But we'll be ready to go. Again, I just can't thank everyone enough for pitching in to help us out."
RECENT POSTS
Weather doesn't hinder 2023 Let's Take A Kid Fishing event!
LAKE VERMILION— With rain steadily pelting the lakeside tent at Fortune Bay Resort Casino Wednesday morning, Phil Bakken
Read More