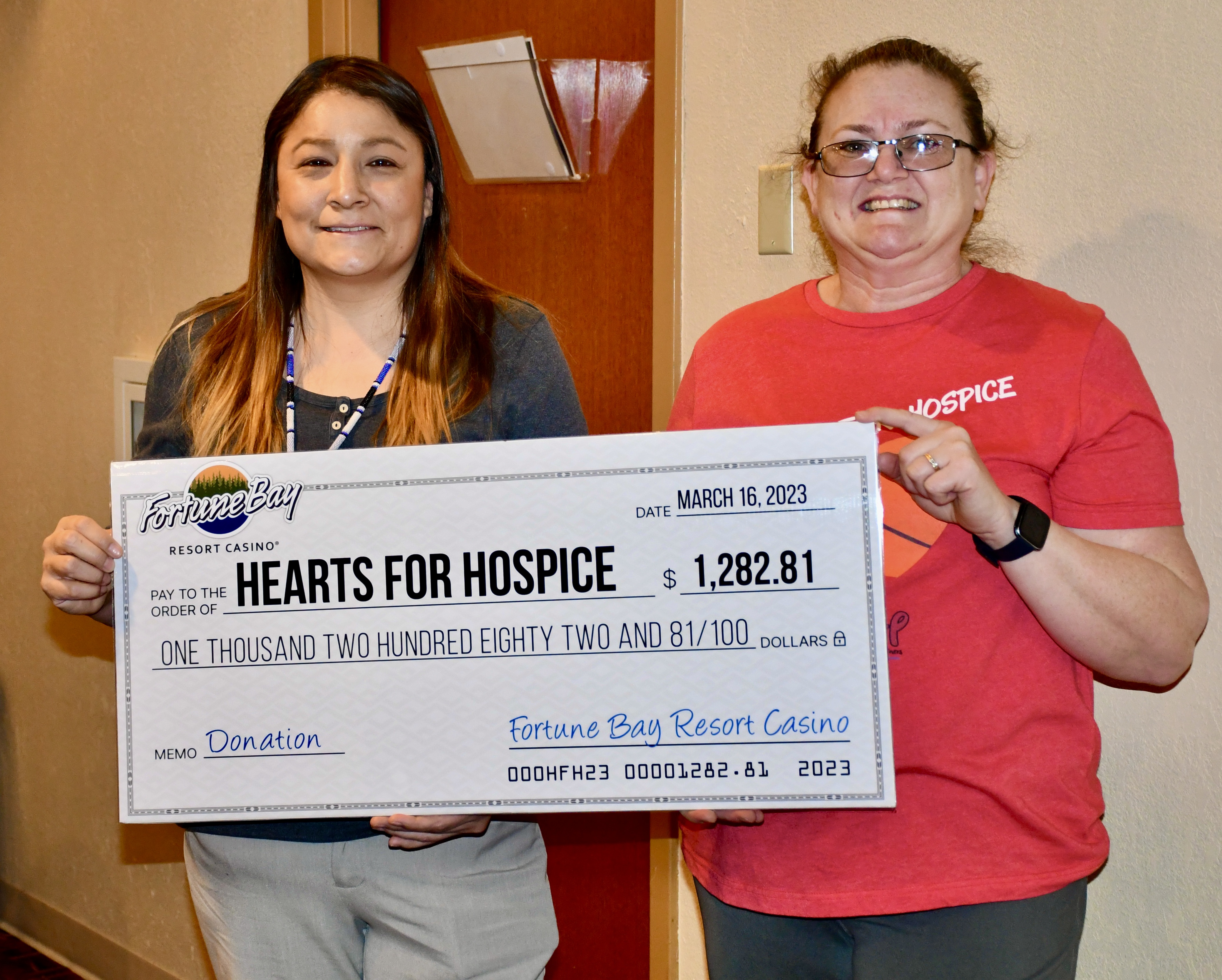 Hearts for Hospice receives a nice boost!
April 19, 2023
TOWER— As a person who has experienced a loss due to cancer, Emily Koch wanted to do something in memory of her mother.
So, she decided to become involved with Virgie Hegg Hospice Partners, Inc. in Cook, which is a nonprofit 501 c (3) corporation that serves hospice and hospice-eligible patients and their families in the Cook, Orr, and Tower areas.
"I've been involved with them for almost four years," said Koch during a recent check presentation at Fortune Bay Resort Casino. "I got involved because they were one of the few groups that stepped up and offered help when my mom was battling cancer, and it was a way for me to give back."
And thanks to the help of Fortune Bay Resort Casino and its guests, Koch's outreach has helped raise nearly $1,300 for their Hearts for Hospice fundraiser.
Fortune Bay's Ticket In Ticket Out Promotion entails guests either dropping a cash donation or their gaming ticket into a drum on the gaming floor. At the end of the month, Fortune Bay matches up to $500 for that month's cause.
"I want to say a huge thank you to your guests and Fortune Bay," said Koch at the check presentation, which was attended by her good friend, E.J. Deegan. "I never expected this amount. It's phenomenal, and it is so appreciated."
Deegan, whose daughter plays on the Northwoods High School Girls' basketball team with Koch's daughter, was glad to participate in the check presentation.
"Emily is passionate about the work she does on behalf of Virgie Hegg Hospice Partners, Inc," said Deegan. "We are glad to have helped this worthwhile organization raise money for such an important cause."
While the Hearts for Hospice fundraiser is over, Koch said the organization was very pleased with how the 3rd annual event went. She said it continues to get bigger and better, and she expects that support to continue.
"We help people in Cook, Tower, and Orr by giving gas cards to visit loved ones who might be in the last days of hospice, or we purchase a hospital bed so the person in hospice can spend their last days at home," said Koch.
The next fundraiser on the books for Virgie Hegg Hospice Partners, Inc. is the 3rd annual Hope for Hospice Run, which takes place during the Cook Timber Days event in June.
"We're also going to have an informational booth set up during Timber Days to raise awareness about our organization," said Koch. "If people want to help us now, they can go to our website and make a one-time donation or an ongoing monthly donation. Any and all help is appreciated."
For more information about Virgie Hegg Hospice Partners, Inc., please visit www.vhhp.org
RECENT POSTS
Weather doesn't hinder 2023 Let's Take A Kid Fishing event!
LAKE VERMILION— With rain steadily pelting the lakeside tent at Fortune Bay Resort Casino Wednesday morning, Phil Bakken
Read More