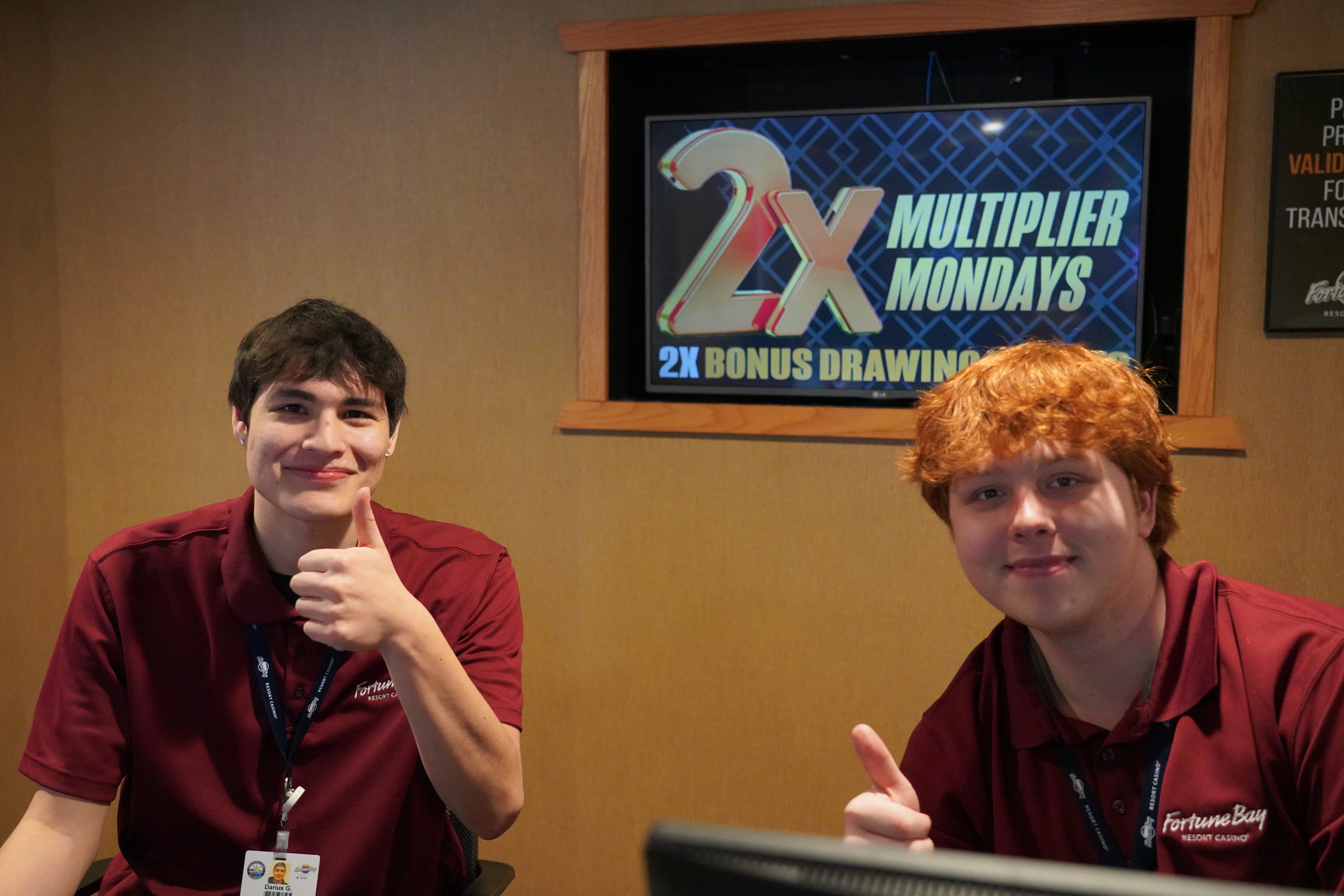 Make plans to attend our Job Fair!
April 14, 2023
Current employees will get their chance to sell Fortune Bay Resort Casino to prospective employees at the upcoming Job Fair on Saturday, April 22nd.
Finding that 30-second elevator sales pitch shouldn't be too hard as Fortune Bay offers a laundry list of benefits that theoretically should have folks lined up to begin their new career.
"We offer competitive pay, an attractive benefits plan that includes free basic health insurance, plus family health, dental, life insurance, 80 hours of vacation after one year of employment, and much more," said Director of Human Resources Beth Adams.
And that "much more" comment readily qualifies as "much more" as Fortune Bay also offers a paid lunch break, 25% off meals at all of its dining outlets even when an employee is off the clock, discounts on resort rooms and golf at one of the top-ranked courses in the state, discounts on a gym membership at the Vermilion Wellness Center, and deals on watercraft rentals to explore beautiful Lake Vermilion.
"When our employees take their vacation, they get their base pay, 401k match, and health insurance," said Executive Chef Kirstie Kern, who used to work for a franchise restaurant. "When I worked for that restaurant if you took time off, there was no vacation pay, and no benefits or health insurance was paid. That in itself should be a big draw for those who want to join our fast-paced, family-orientated company."
The upcoming Job Fair will once again allow prospective employees the chance to get interviewed on the spot to fill one of our many open jobs. There are a variety of openings throughout the property, including the Bar Department, Environmental Services Department, Resort Front Desk, Casino General & Administration, Gold Mine Grill, Maintenance, Player's Club, Retail Sales, Housekeeping, Security, Tables Games, and Information Technology.
The need for additional jobs will greatly expand as managers and directors review their wish lists to amp up employment for the peak summer season, which is now less than two months away.
"I have been and will continue to meet with my staff to see what their needs will be so that we are fully staffed," said Director of Hospitality Rebecca Stahl, who oversees the Resort, Housekeeping, Retail Sales, Marina and RV Park.
Meanwhile, The Wilderness at Fortune Bay, which now has a new manager and superintendent, has numerous job openings in its Food & Beverage Department. Those include a chef, sous chef, dining room manager, bartender, line cook, and server. They also need an outside service attendant, a starter/ranger, and a golf shop attendant.
In preparation for the April 22nd Job Fair, Recruitment and Onboarding Specialist Krissi Kotnik has been busy doing her part to let people know about employment opportunities. That includes attending a Career Day at the Bois Forte Tribal Government Building and Ely High School, plus Career Days at the Minnesota North College Hibbing Campus and Minnesota North College Ely Campus.
"We had a number of students from each fair express interest in summer positions and positions within their field of study," said Kotnik, who added there will be on the spot interviews for some positions at the Job Fair. "As we grow closer to the Fortune Bay Job Fair on April 22nd, we will see an increase of students, based on their timeline for jobs and our current hiring needs."
However, one technique Adams is counting on to help fill openings is the old reliable method called Word of Mouth advertising.
"That is something that always seems to be effective for us," said Adams. "It is a good tool for us to use as employees are our greatest ambassadors when it comes to letting their family or friends know about our career opportunities."
The Job Fair runs from 10 a.m. until 3 p.m. on Saturday, April 22, in The Woodlands Ballroom.
RECENT POSTS
Weather doesn't hinder 2023 Let's Take A Kid Fishing event!
LAKE VERMILION— With rain steadily pelting the lakeside tent at Fortune Bay Resort Casino Wednesday morning, Phil Bakken
Read More