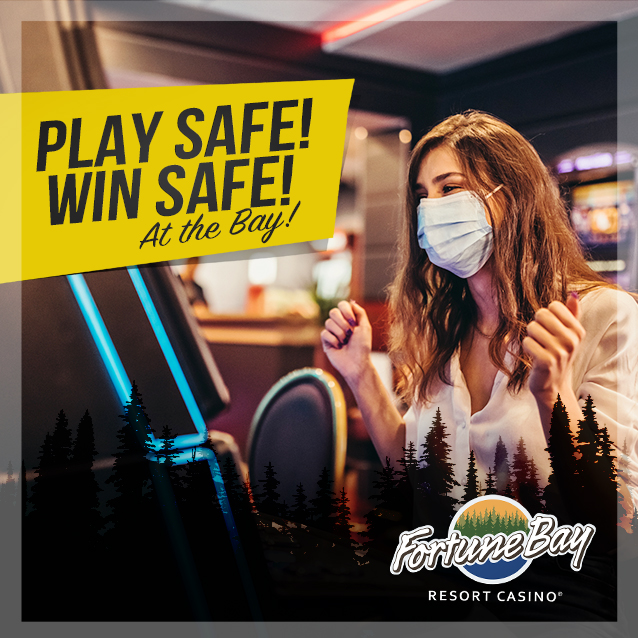 Mask mandate is back at FBRC and BFDC businesses
November 16, 2021
With Minnesota leading the way in rising COVID-19 cases, Fortune Bay Resort Casino and Bois Forte Development Corporation businesses will immediately be requiring all guests and staff, regardless of vaccination status, to wear a mask and be mindful of social distancing.
"We need to do this to keep our community and our employees safe," said Fortune Bay General Manager Mayan Beltran during a meeting with the Bois Forte Tribal Council and Government employees Tuesday. "Until this trend turns around, we need to make decisions like this."
Bois Forte Tribal Chairwoman Cathy Chavers concurred.
"It's the decision we have to make," said Chavers. "I am down at Treasure Island for a conference right now, and they all required to wear masks too."
Bois Forte Development Corporation businesses include The Y Store, WELY Radio, the Nett Lake Convenience Store, KBFT Radio, and The Wilderness at Fortune Bay golf course.
It was also decided to pause all larger gatherings at Fortune Bay Resort Casino until further notice.
"I believe until this surge stabilizes, we need to stop doing events for safety," said Beltran.
The council agreed and will monitor COVID-19 activity before revisiting this decision.
The news comes just days after Fortune Bay announced winter hours of operation with some of its amenities, including closing the resort and blackjack tables Mondays and Tuesdays.
Effective next Monday, the Sunset Steakhouse winter hours will be Thursday through Sunday. Additionally, the Gold Mine Grill hours will be expanded from 9 a.m. until close seven days a week.
Casino hours will be 7 a.m. until 2 a.m. Monday through Thursday and be open 24 hours Friday and Saturday, before closing at 2 a.m. Monday.
Beltran met with staff Tuesday to start getting the message out as quickly as possible. This will include deploying an email blast, putting it on social media, and updating signage property-wide, including the digital sign on Highway 169.
"It's disheartening that we have to make this decision because cases had been going down," said Beltran, "but now that Minnesota is leading the nation with the most cases, it was something that we needed to do and act swiftly upon."
RECENT POSTS
Vaccine Mandate Takes Effect November 1st
The countdown is on for Fortune Bay Resort Casino, Bois Forte Tribal Government, and Bois Forte Business Development employees
Read More