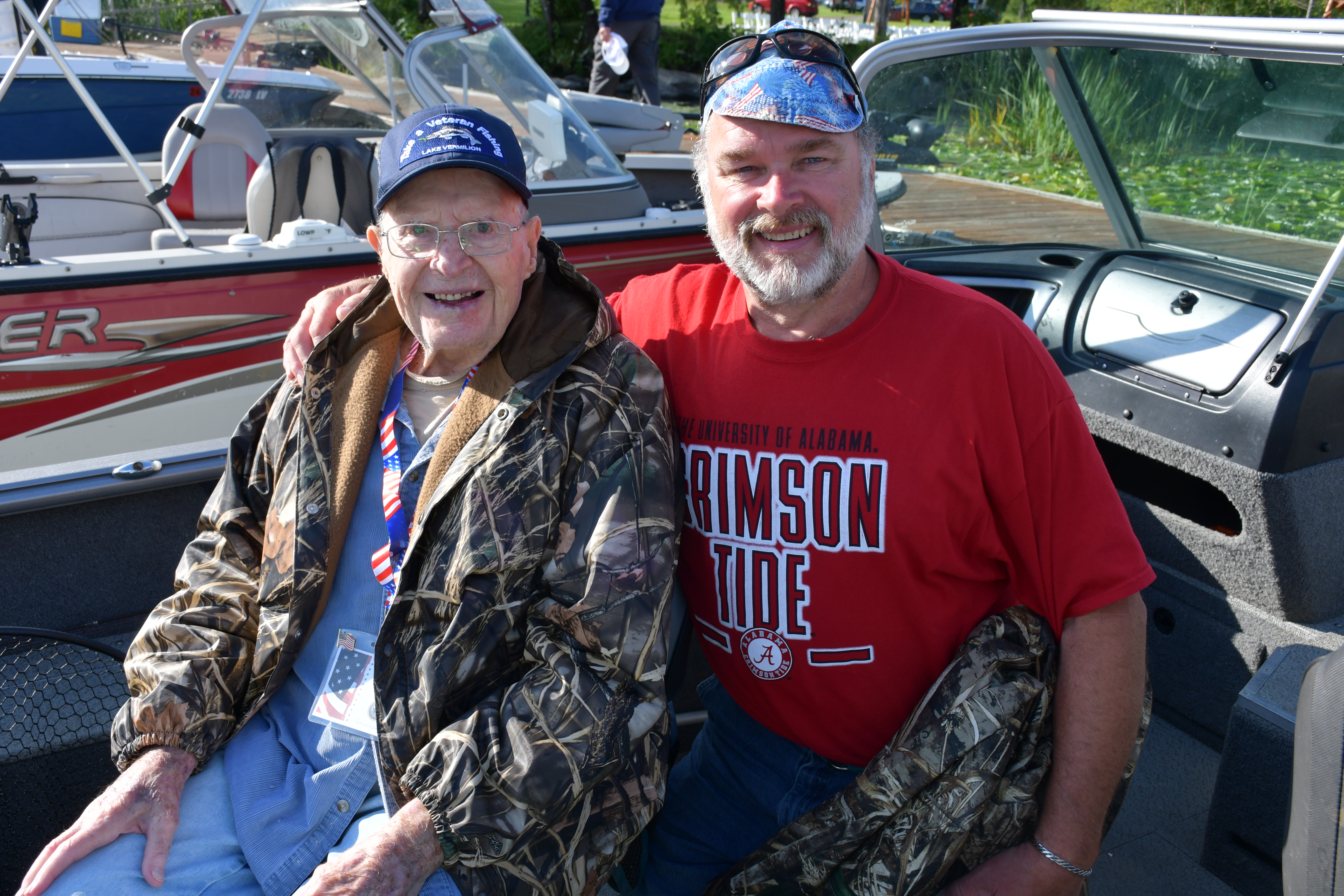 Memories abound for 9th annual TAVF event
September 7, 2022
It never gets old—at least that was the reception Phil Bakken received when giving his traditional opening remarks at the recently conducted 9th annual Take A Veteran Fishing event.
"Hey, they didn't boo me this time," said Bakken with a big smile as he finished telling a joke that he does every year before guides take out our veterans for a morning of fishing on Lake Vermilion.
The joke is aimed at those veterans who never had to deal with rough waters while serving their country.
"I checked the weather this morning, and we are due for some heavy seas," joked Bakken as he prepared to deliver his punchline that is now synonymous with the event. "They are calling for waves of five inches, so all of you ground pounders may want to pick up some seasick pills before you head out."
In years past, Bakken's joke would garner some boos, but perhaps this year's much better forecast put the crews in a better mood as they hit the waters to spend quality time on the lake. Over 100 veterans took part in the event, which is a highlight for the veterans and for all the guides from the Lake Vermilion Guides League and other boat operators who volunteered to work the event.
In 2021, those working the event were blessed to have been joined by six World War II veterans; however, that number dwindled to only two this year. One of those World War II vets was 99-year-old Navy veteran Jim Charles, who was spending the day on the lake with his son, Jim.
"It's great, just really great," said Charles of the event. "Just the fact that at my age that I am able to get out here and fish like a normal person. I have been looking forward to this for the past six months."
While Charles might be slowing down a tad, he still kept his sense of humor, as evidenced when he gave an answer to explain his longevity in life.
"I'd like to say it is because of whiskey and women, but I'd be lying," he said with a smile as he prepared to take off from the marina with his son and guide.
The event also holds special meaning for Charles' son, Jim, who has been attending the event with his father for the past three to four years.
"I used to spend a lot of time up here with my dad as a kid," said Charles of time spent with his father, who was a game warden before retiring in 1982. "It's just fun to come back and enjoy what these guys do and what Fortune Bay does for them."
And for Fortune Bay, they too are proud to be part of such a special event that means so much to so many people here in northeastern Minnesota.
"While the day includes some quality time on the lake, it also represents something more than that," said Fortune Bay's Brian K. Anderson in his welcome address. "It is a day for all of us to be able to walk alongside our heroes from yesteryear and today."
While Anderson said that all veterans deserve our respect—it is truly amazing that in the year 2022, we still are blessed to have some World War II vets in our presence.
"We are truly humbled to be able to enjoy your company for another year," said Anderson, who thanked the Take A Vet Fishing Committee and the Lake Vermilion Guides League for all the work they do to make the event possible. "Thank you, and enjoy your special day."
RECENT POSTS
Weather doesn't hinder 2023 Let's Take A Kid Fishing event!
LAKE VERMILION— With rain steadily pelting the lakeside tent at Fortune Bay Resort Casino Wednesday morning, Phil Bakken
Read More