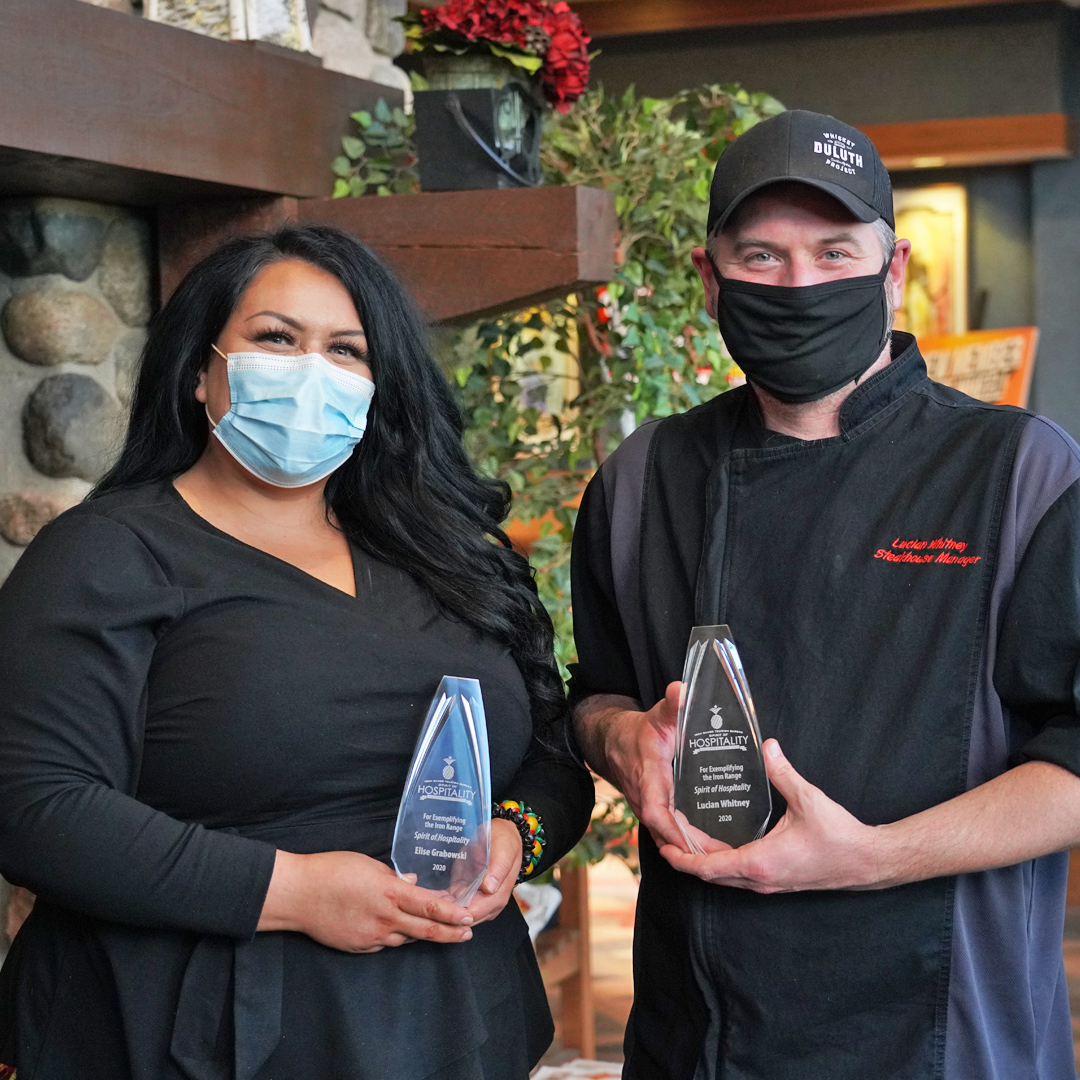 Spirit of Hospitality Award Winners
November 30, 2020
It was a banner evening earlier this month when Elise Grabowski and Lucian Whitney walked away with Spirit of Hospitality awards.
Grabowski won the Guest Relations category, while Whitney won the Food Production category. Grabowski, who was nominated while being an executive host, recently began a new job as Entertainment and Promotions Manager. Whitney is the Sunset Steakhouse Manager and Executive Sous Chef.
The Spirit of Hospitality awards was established nine years ago to recognize area employees for providing excellent customer service to guests, while also being knowledgeable about the Iron Range and assisting guests each and every day.
"This is great news for Fortune Bay," said General Manager Jenna Lehti. "Both Elise and Lucian epitomize the definition of customer service. Elise's outgoing personality and ability to keep our guests happy is legendary as is Lucian's passion for providing guests with a memorable dining experience."
Whitney was nominated by Executive Chef Kirstie Kern, who wrote that he consistently demonstrates the qualities and attributes that define hospitality.
"Lucian is always the first to lead by example. His passion for food leads to many custom signature dishes that guests ask for by name," wrote Kern. "He is always going the extra mile and testing ingredients to get the best possible memorable combination."
Whitney was flattered by all of the kind words Kern bestowed upon him, but true to his nature, he thanked others for the success he has achieved.
"I feel I am just doing my job," said Whitney. "The ones that need thanks for allowing me to do so are my wife for dealing with the hours I spend trying to make the steakhouse as great to every guest who walks in the door, along with keeping every part of our staff happy. I also need to thank Chef (Kern) and Garrett (Lamppa) for believing in my sometimes out of the blue random ideas and allowing me to try new things and to create.
Grabowski was equally touched by winning a Spirit of Hospitality Award and called it an absolute honor to have won.
"I have been with Fortune Bay for 10 years and we have the opportunity to learn from so many leaders. This solidifies my efforts to become a leader in guest services myself. It is the greatest feeling!" said Grabowski. "Now the bar has been raised— I have to continue to hold myself accountable to push myself further."
Grabowski was nominated by Social Media Manager Alecia Keller who praised Elise for always going out of her way to help a guest.
"She's got a contagious smile and laugh," wrote Keller about Grabowski. "She is a true gem on the Iron Range and needs to be recognized for her superior customer service."
The judges obviously agreed and Grabowski joined a long list of FBRC employees who have won a Spirit of Hospitality Award.
Grabowski credited Hannah Lehti and Alton Barfield for her growth throughout her lengthy career here at Fortune and said it was somewhat bittersweet that she left her job as Executive Casino Host to begin a new career at Fortune Bay.
"The basis of what a Casino Host does prepared me for this role," said Grabowski of her new job as Entertainment and Promotions Manager. "Teamwork, remain consistent, be creative, be open to opinions, hold yourself and others to the standard of wanting to be better today than you were yesterday. Never stop learning. The Host Department will always have a big part of my heart."
RECENT POSTS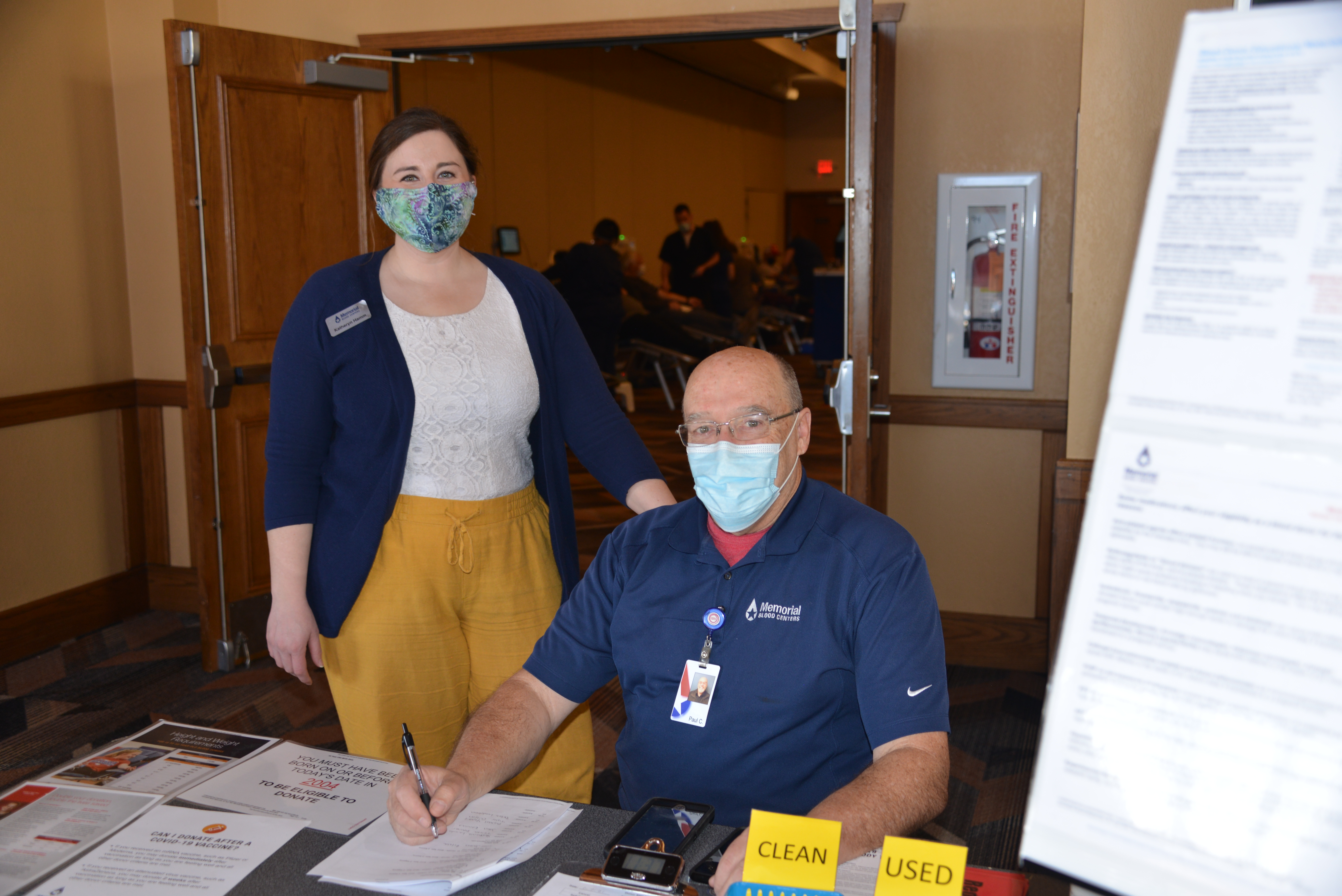 Fortune Bay Hosts Mobile Blood Drive!
The Woodlands Ballroom at Fortune Bay was recently turned into a Mobile Blood Drive as employees and guests answered the call
Read More